Thomas Nelson Publishers has a program where they send you free books, often before they release, as long you review them online. It's a sweet deal, and you can sign up
here
. Here are my first two reviews:

Donald Miller
—
A Million Miles in a Thousand Years
A follow-up of sorts to
Blue Like Jazz
, the 2003 hit that made Miller an icon to a generation of young Christians,
A Million Miles in a Thousand Years
is Miller's most focused and satisfying release yet.
The book is birthed out of his experience with two filmmakers who decide to make a movie about
Blue Like Jazz
. When they sit down to write the screenplay however, they tell Don that no one would watch a movie about his life because he lacks the memorable scenes and ambition that makes a story great. Miller's response then, and the focus of Million Miles, is to examine how the elements of an engaging story apply to someone who has lived an otherwise dull story and is looking for something more.
What's great about Million Miles is not that Miller's words are unique or profound, though his writing often makes you want to put the book down, grab a pipe and a tweed jacket with leather elbow pads, and rent a cabin in the woods. Instead the specialness of Million Miles is in the stories he tells along the way. From seeking out the father who abandoned him as a child to riding a bicycle across the country to raise money for clean wells in Africa, Miller's emotional examples of lives lived on purpose resonates the soul with a hope that is largely absent from his previous work.
Miller doesn't offer any formulas on how to live a more fulfilling life, but instead gives the reader, through his own story, a choice to make. To set the book down with no introspection into one's own story is to have missed his point entirely. But to take his advice and to deliberately look for ways to tell a better story, that is when lives, families, and communities can be changed.
When the book officially releases on September 29, 2009, you should buy at least two copies to give to friends and family, as a story lived with only one character is a dull story indeed.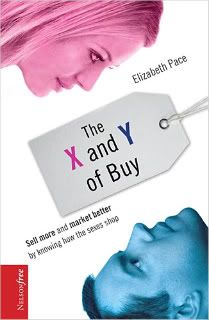 Elizabeth Pace
--
The X and Y of Buy
The premise is basic enough: that men and women are different and as such require different marketing strategies. What's harder is making specific application of Pace's research to the design, placement, and pricing of gender specific products across any industry and socioeconomic status.
While Pace's intention isn't to write a comprehensive resource for all types of marketers, she leans perhaps too heavily on the scientific differences between the genders. It may have been more useful to provide additional case studies and her thoughts on marketing commodities versus niche products, as well as the need for more targeted segmentation beyond gender.
For experienced marketing pros, this book should serve as a nice reminder to consider the most basic of differences among customers. If new to the marketing profession, or if making a change to a new set of products, X and Y serves as a handy reference guide.
Overall, this is an enjoyable book and a nice addition to any marketer's bookshelf. The strength of X and Y is in its accessibility, complete with plenty of charts and tables, as well as Pace's humorous writing style. For a more detailed reading about customer psychology, the reader would be well served by picking up a copy of Paco Underhill's
Why We Buy
as well.
-David